Taking Your Kitchen Island From Bland to Glam
We all know that the kitchen is the epicenter of any home, and for me, the kitchen island is the soul. It's like the popular kid in school – everyone gravitates towards it. It's the go-to place in my house. It's where my kids will sit to eat their snack and do their homework. It's where I'll hang out with a glass of wine with my husband or friends and catch up on our lives. After spending months designing the kitchen to be just how I wanted it, my focus then shifted to the most important thing that was left – ways to accessorize the island. With so many options, but never enough space, I've come up with my top 5 "must-haves" in kitchen island decor ideas.
5 Items That Will Spruce Up Your Kitchen Island
The only thing worse than a bare island is an overly messy one. My kitchen island is a coveted space. I don't like clutter so what I do have on it needs to add value, and by that, I mean it needs to look great or serve a purpose (preferably both)
#1: Fruit is Nature's Candy
First up on my list is the simple fruit bowl. No kitchen island is complete without one. This checks the box for looking gorgeous and being useful. I know that when the fruit is given pride of place in my kitchen, we tend to snack on it more and make healthier choices (hence why the cookie jar is at the back of the pantry. The theory for that being out of sight, out of mind).
What kind of bowl should you look for? Fruit lasts longer if the gasses have room to circulate. With that in mind, I've found the perfect bowl that'll keep the fruit fresh but doesn't compromise on style. Designed by Marco Trimarchi, La Stanza Bowl dello Scirocco by Alessi comes in white, black and stainless steel, and makes a great centerpiece for your kitchen island.
#2: Setting The Ambiance with Flameless Candles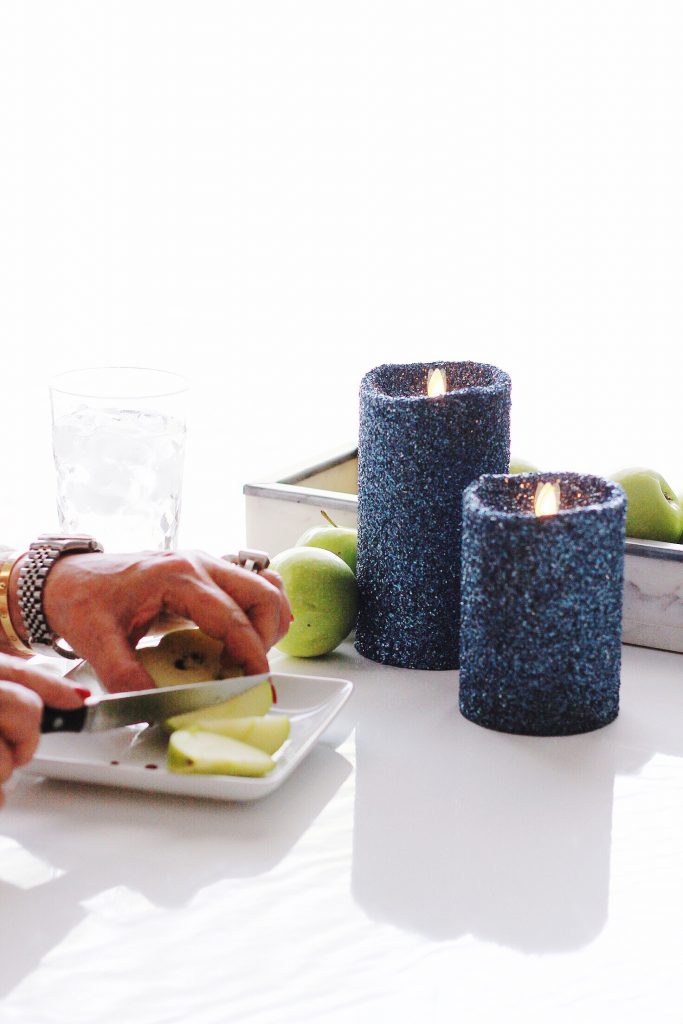 What I love about candles is that their very presence brings me a sense of calm. I associate candles with romance, and tranquility, and peace, and quiet. So even though the kids and dogs running through my house at any given moment represent none of those things, it's like the Pavlov effect. The very sight of a candle transports me internally to a better place.
Our Flameless Candles from the Matchless Candle Co. provide the same soothing glow of a real candle but without the mess or safety concerns, and don't need constant replacing! Made from real wax and individually hand-poured, they have the look and feel of a traditional candle. The technology used to create the flame effect on their range of Moving Flame candles is so realistic that most of my guests don't realize the flame isn't real. It's the perfect addition to my list of kitchen island decor ideas.
#3: Fun-filled Conversation Starters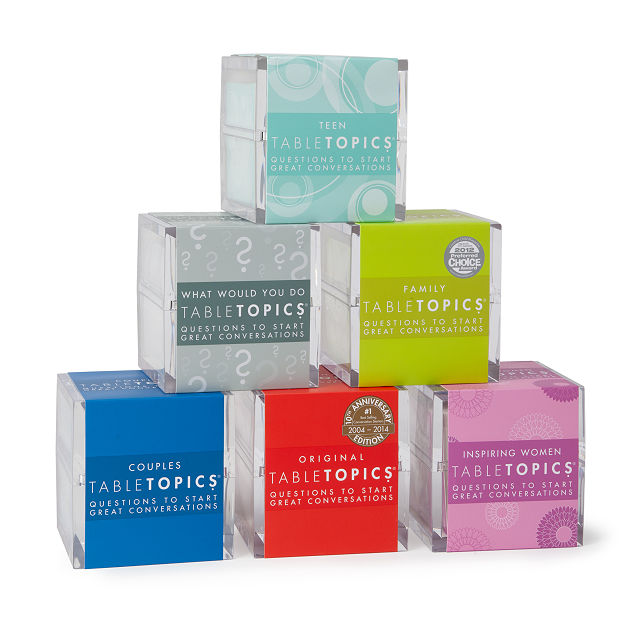 I think the kitchen is where some of the best conversations take place. Anyone who has teenagers, however, knows that having a conversation can be like pulling teeth. So finding new and engaging things to talk about can help keep the conversation flowing. We have a lot of fun with these Table Topics conversation starters and the brightly-colored boxes look cute piled up at the end of my island.
Each box comes with 135 questions that range from silly to thought-provoking. While initially aimed at parents and young children, there's now a box for different groups, including family, teens, girl's night out, couples, dinner parties, and even DIY Therapy. It's caused many a hilarious conversation in our house!
#4: The Fresh Flower Alternatives
There's nothing better than fresh flowers, and I love the idea of having a stylish vase filled with my favorite flowers of the season on my island to brighten up my morning. But that can be pretty high maintenance and get really expensive.  They're low enough to not cut the eyeline but make a stylish tabletop focal point. If you're feeling crafty, you can have fun filling them with whatever you like. My favorites are plants or candles.
#5: Stunning Low Hanging Ceiling Lamps
I am in love with the look of these, modern Rona Nordic hanging lamps. They will illuminate all your new gorgeous accessories while looking simply stunning. You can mix and match the three different styles or go for a uniformed look.
Crafted from eco-friendly glass stone, they're the statement piece that every kitchen needs and will exponentially raise the level of sophistication of your kitchen.